UPDATE 5/15 8:22 AM: Mafa released a new statement in response to the below statement titled "'Umar Bin Lāden does not represent the sons of the Shaykh":
عمر لا يمثل أبناء الشيخ .
أبناء الشيخ أسامة الحقيقيون هم من كانوا معه حتى اللحظات الأخيرة من حياته .
لا يحق للأخ عمر مع احترامي أن يتكلم باسم أبناء الشيخ أسامة وهو الذي ترك والده بعيدا منذ سنوات .
أبناء الشيخ أسامة كثر و لا يمثلهم الأخ عمر ولم يعطه أحد تصريحا بذلك .
نرجو من موقع مافا المحترم نشر هذا التصريح وعدم التهويل والهيلمة الإعلامية باعتبار أن أبناء الشيخ أسامة هم من أصدر هذا البيان , والحقيقة أن هذا بيان لعمر بن أسامة بن لادن فقط وليس لغيره فنرجو الدقة في الألفاظ وتحري الصدق , لأن هذا يؤذي أبناء الشيخ أسامة الآخرين الذين لا يوافقون على هذاالبيان .
أيضا الأخ عمر أرسل تصريحه إلى وسائل إعلامية كثيرة ولم يخص موقع مافا بهذا البيان .
ولكم الشكر .
_____

—
NOTE: For some English excerpts from the below statement see here.
—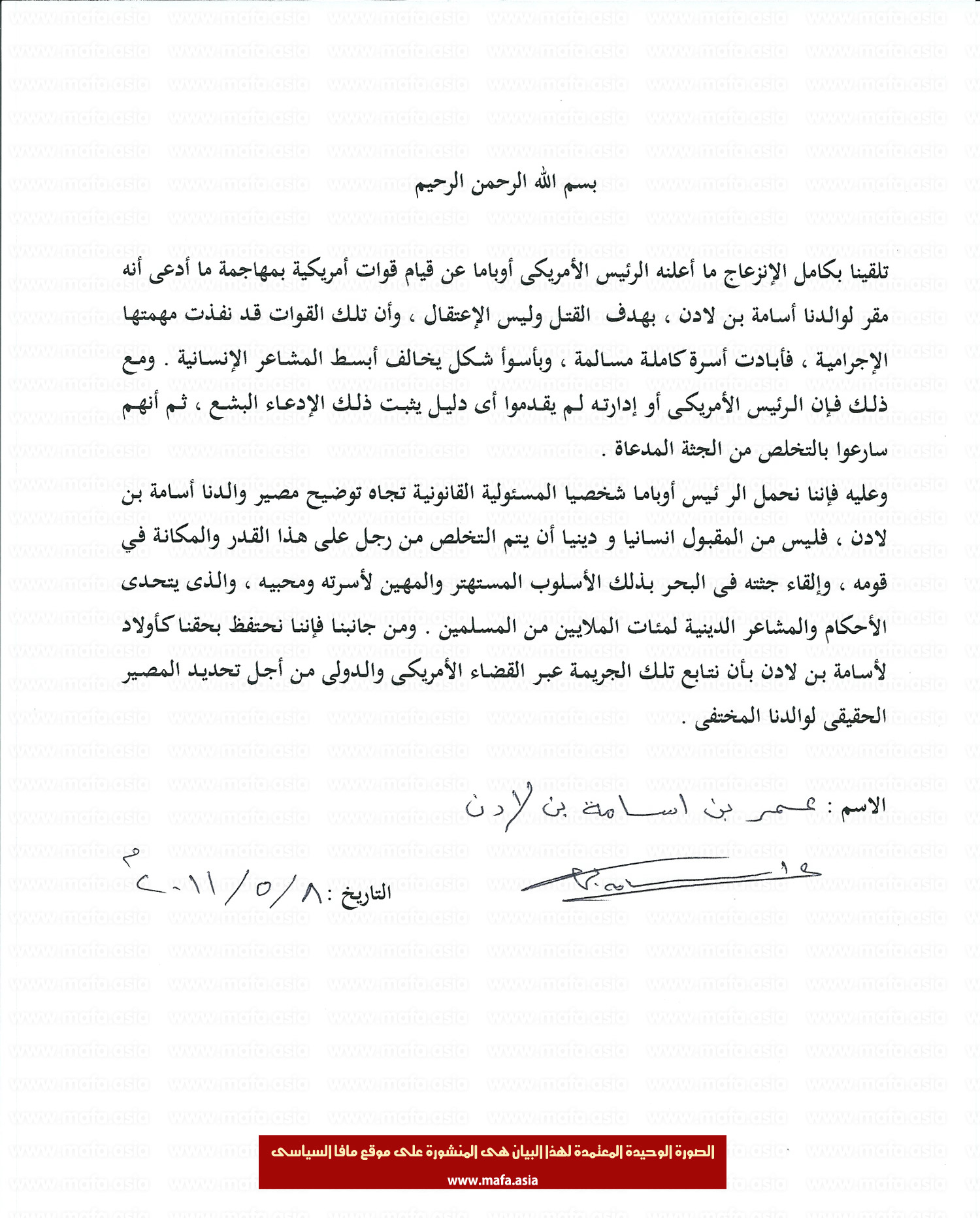 _____