NOTE: For prior parts in the Hizballah Cavalcade series you can view an archive of it all here.
—
Faylak Wa'ad al-Sadiq: The Repackaging of an Iraqi "Special Group" for Syria
By Phillip Smyth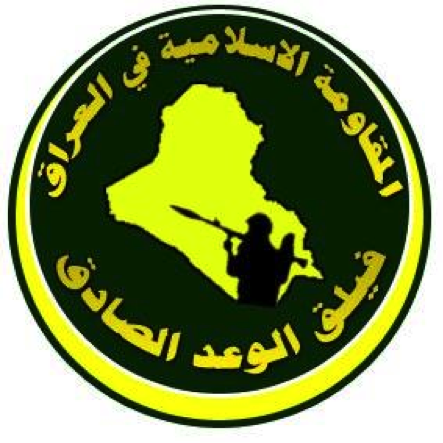 Figure 1: Faylak Wa'ad al-Sadiq's logo. The top line reads: "The Islamic Resistance in Iraq" ("Al-Muqawama al-Islamiyya fi al-Iraq"). The bottom says, "The Truthful Promise Corps" ("Faylaq al-Wa'ad al-Sadiq"). The logo features the map of Iraq in the center with a blackened figure holding an RPG-7.
Officially known as Al-Muqawama al-Islamiyya fi al-Iraq-Faylaq al-Wa'ad al-Sadiq or The Islamic Resistance in Iraq-The Truthful Promise Corps (FWS), this organization has made some waves in Arabic-language media following the discovery of some of its images on social media networks.[1] Led by a Secretary General, FWS's current leader is Iraqi Shia Sheikh Abu 'Ammar al-Tamimi (A.K.A. Shiekh 'Ammar). The organization also claims to be based in the holy city of Najaf, Iraq. It is clear from assessing the trajectory of public statements and their social media presence that the FWS appears to be increasing its public presence in an effort to establish the belief there are further organized Shia Islamist force deployments in Syria.
The group's name references Lebanese Hizballah's Secretary General's long-standing goal to kidnap Israeli soldiers. This "promise" came to fruition in July 2006, when fighters from Lebanese Hizballah attacked an Israeli military convoy and kidnapped two Israeli soldiers and killed three. The attack spurred what would turn into the more than a month long 2006 Hizballah-Israel War.[2]
It is unclear whether it was created immediately following the 2006 Hizballah-Israel War or if it was established later in 2010-2011.
Reportedly, the FWS was first established to "fight the U.S. occupation of Iraq and the collaborators [associated with it]".[3] In January 2012, FWS claimed it had no interest in running for elections or becoming part of the Iraqi government.[4] In August 2012, the FWS's spokesperson Sheikh 'Amr al-Lami, claimed the group changed paths and stated it would instead focus on civil projects. One year later, the organization claimed to have sent its first fighters (from a "military wing") to Syria in order to, "defend shrines".[5] "Shrine defense" has been the most prevalent narrative used by Iranian-backed Shia Islamist fighting groups which have deployed to Syria.

The group also made its first video and a group musical anthem public in January 2014. Though it appears to have been uploaded in February 2012. It is possible FWS uploaded the clip many months ago, then made it "private", only to re-release it as part of a ramping-up of their public image. In the short clip, the FWS-subgroup which claims the attack is called Kata'ib Musa al-Khadhim-Sariyya 'Ammar Ibn Yasir (The Musa al-Khadhim Brigade-'Ammar Ibn Yasir Unit). Musa al-Khadhim references the seventh Imam in Twelver Shia Islam.[6] The targeted vehicle in the clip appears to be a U.S. armored HMMWV. [7] The naming of subdivisions after imams is a common form utilized by Iranian-backed Iraqi special groups.[8]
Little was known about the organization during the Iraq War (2003) and it had few announcements. The group also claimed to have its own webpage (since 2011). However, when the page is visited, it does not load.[9] Instead, with public appearances and statements by its leadership, it seems that since the summer of 2013, FWS has been dusted-off and repurposed for a new mission in Syria. September 2013 saw FWS start its initial postings on social media pages it had done little with since opening them in 2011.
This may indicate that the FWS was little more than a front-type group during the Iraq War (2003) which may now field rebranded fighters from other groups for the fight in Syria. In turn, this helps create perception of broader Iraqi Shia support for the concept of Wilayat al-Faqih and of this ideological grouping's war in Syria. Comments on the page largely praised the leadership of Asa'ib Ahl al-Haq. This mirrors newly created front groups such as Harakat Hizballah al-Nujaba (or Harakat al-Nujaba), which fields fighters from Kata'ib Hizballah and Asa'ib Ahl al-Haq (AAH), has a leader from AAH's ranks, yet is cast as independent organization. Photos of fighters from Harakat al-Nujaba front militias in Syria and those from Asa'ib Ahl al-Haq have found a presence on FWS's Facebook page and adjoining profiles.
In addition to the organization's name and links to other Iraqi Shia "special groups", another element further cementing its relationship with Iran and its proxy militant groups, was the group claiming adherence to the concept of Wilayat al-Faqih. Wilayat al-Faqih, or the Absolute Guardianship by a Jurisprudent is Iran's form of radical theocratic governing system. In August of 2013, the reported leader of FWS visited Beirut and confirmed his loyalty to the political-religious ideology.[10] The lead jurisprudent, or Wali al-Faqih, who is followed by FWS is Iranian Supreme Leader Ayatollah Khamenei. The organization's imagery also details their loyalty to Khamenei.
Little is known about FWS's combat abilities, force size, or deployments. In photos released by the group, it has been shown they have what can be considered a normal small-arms accompaniment, ranging from PKM-type machineguns to Kalashnikov pattern rifles. One important detail about deployments in Syria was that the FWS has only claimed (so far) to have specifically fought in one area, Aleppo. This further helps tie the group to Asa'ib Ahl al-Haq's Harakat al-Nujaba and their Liwa'a 'Ammar Ibn Yasir (LAIY). LAIY was the first Iraqi Shia Islamist group to announce they were fighting in Aleppo. The announcement also coincided with the December 2013-January 2014 increase in announced Shia Islamist military activities in Rif Aleppo and the city.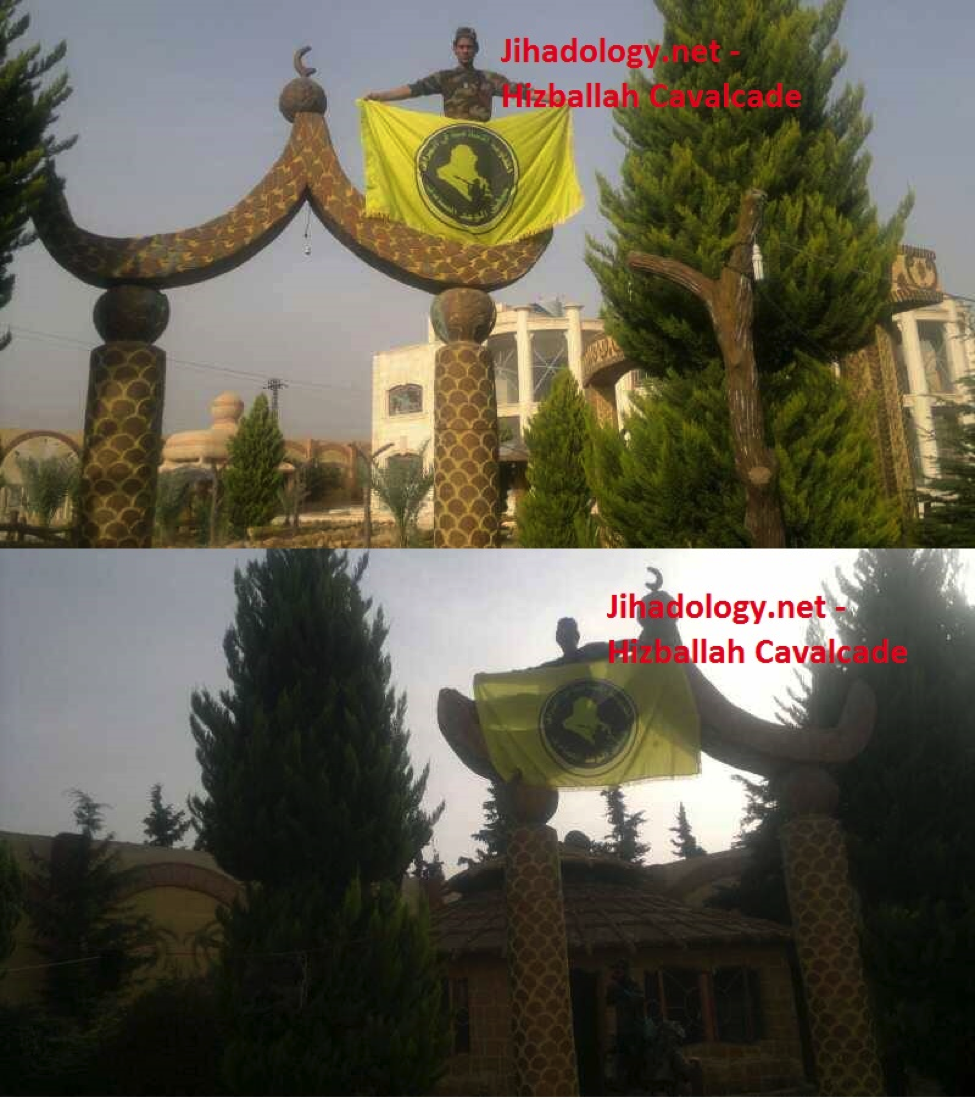 Figure 2: These photos, posted in mid-December, claimed to show an FWS fighter in Aleppo, Syria.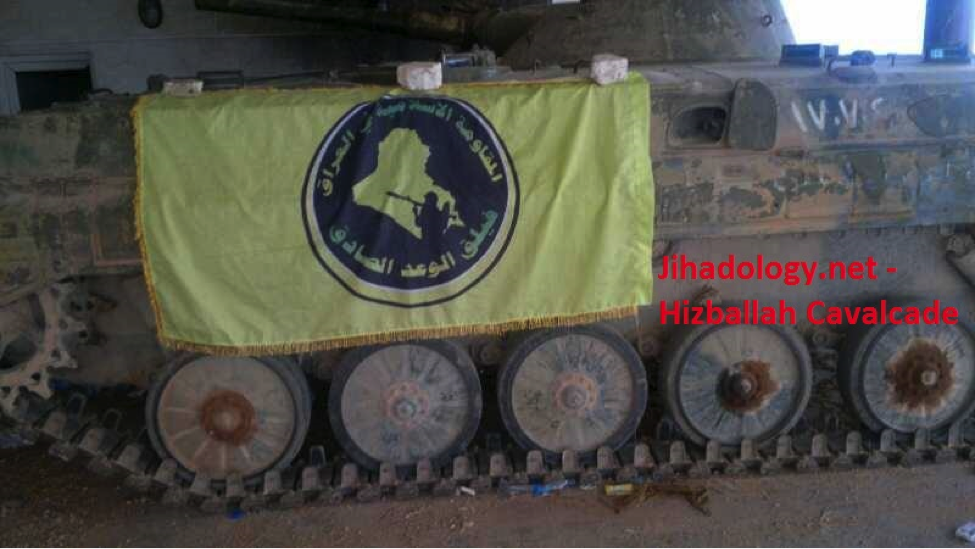 Figure 3: The FWS flag flies on a BMP-1 armored personnel carrier. It is unknown whether this flag was placed on an Iranian, Iraqi, or Syrian BMP-1 infantry fighting vehicle.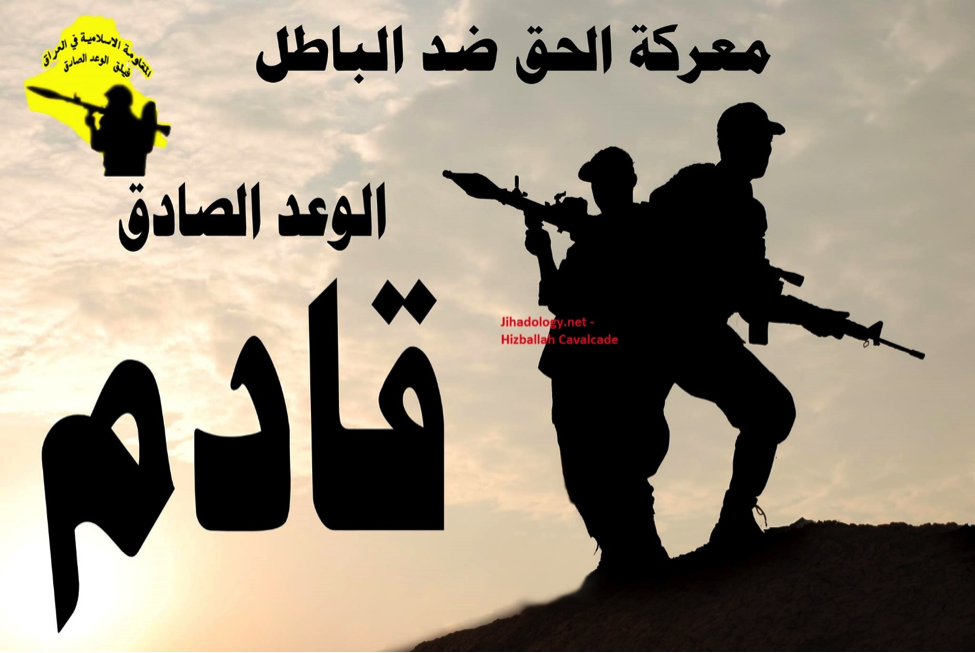 Figure 4: "ma'rkat al-haq dhud al-batl al-wa'ad sadiq qadm" or the "Battle of truth against falsehood, the truthful promise is coming".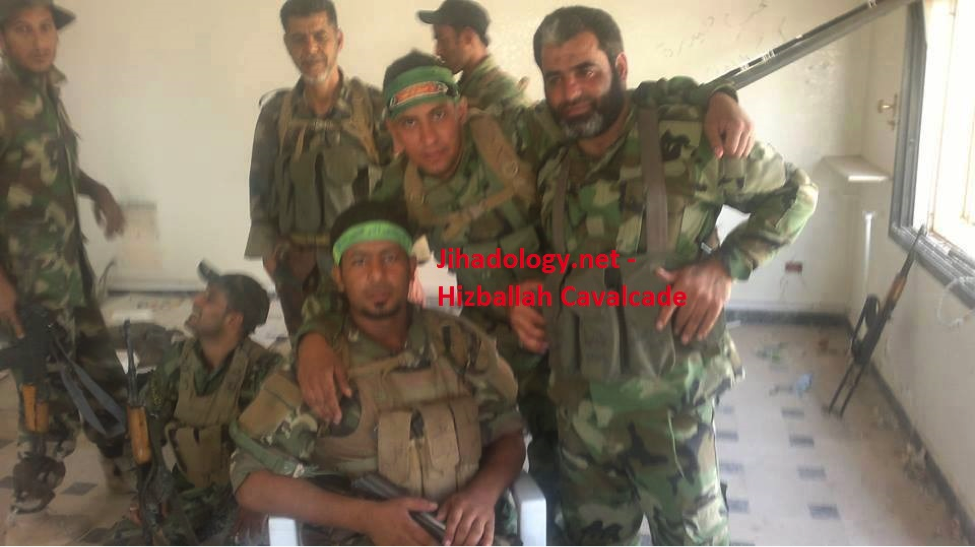 Figure 5: This photo claims these are Faylak Wa'ad al-Sadiq personnel. However, the photo has been posted by other Shi'a Islamist fighting groups.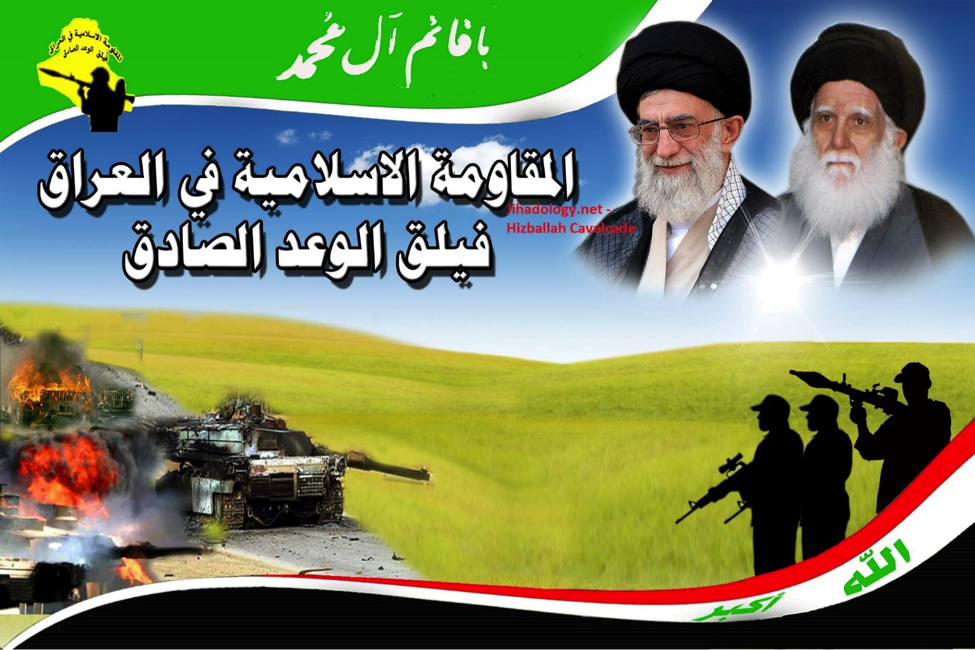 Figure 6: Iranian Supreme Leader Ayatollah Khamenei and Muhammed Muhammed Sadiq Sadr look from the sky down at burned-out U.S. armored vehicles. An Iraqi flag graphic is flows from the lower-right corner.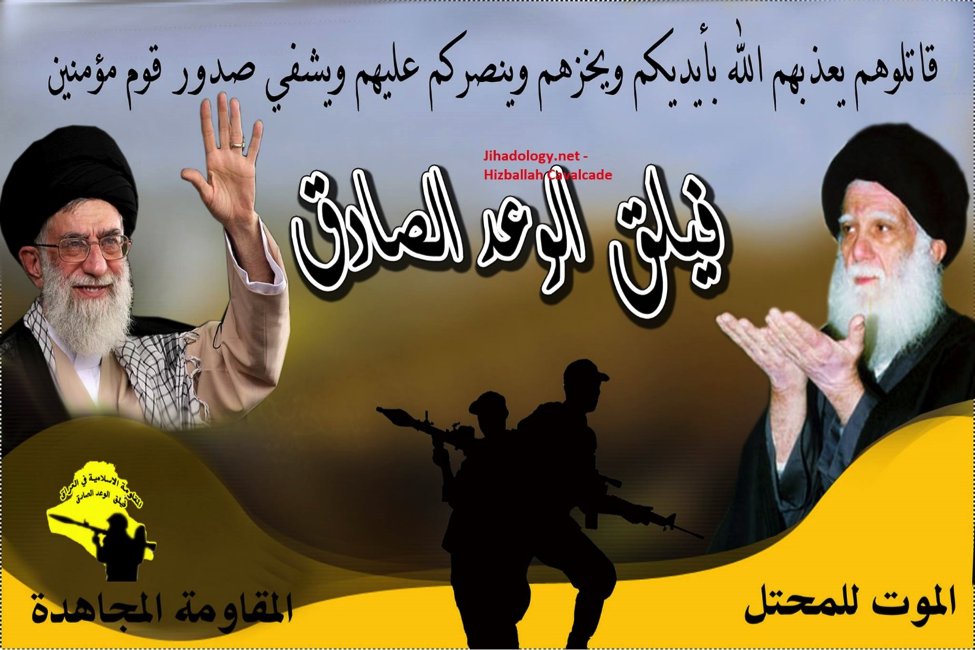 Figure 7: Another poster featuring Iranian Surpreme Leader Ayatollah Khamenei and Muhammed Muhammed Sadiq Sadr.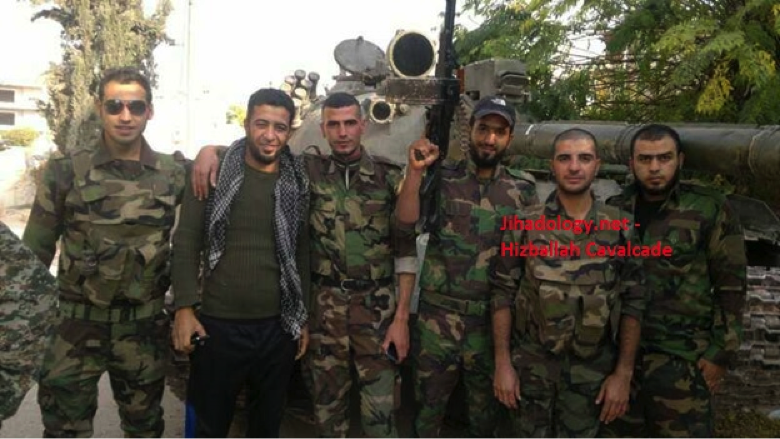 Figure 8: FWS fighters pose in front of a tank.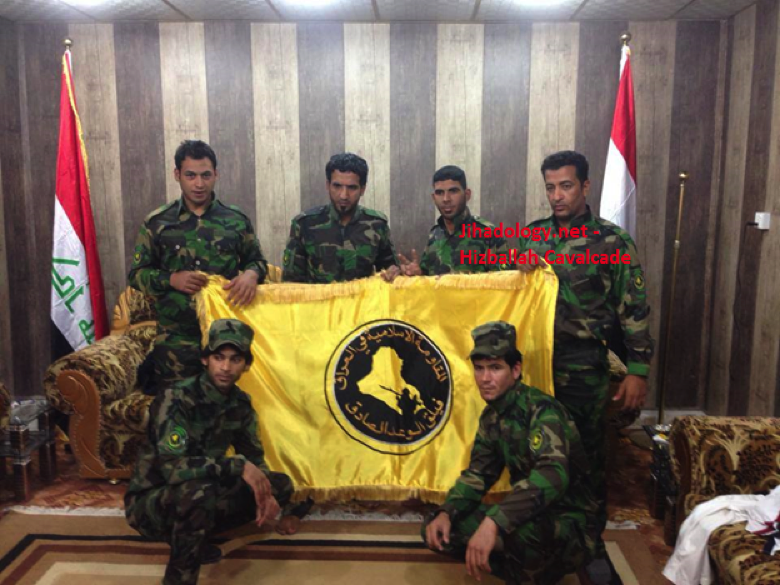 Figure 9: Uniformed FWS members pose with the group's flag while flanked by Iraqi flags. Note the FWS patches worn by these 6 members.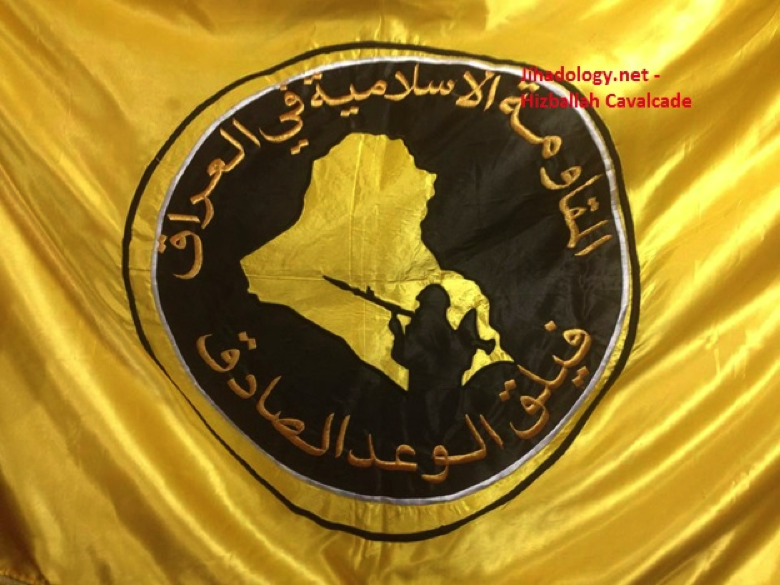 Figure 10: The FWS flag.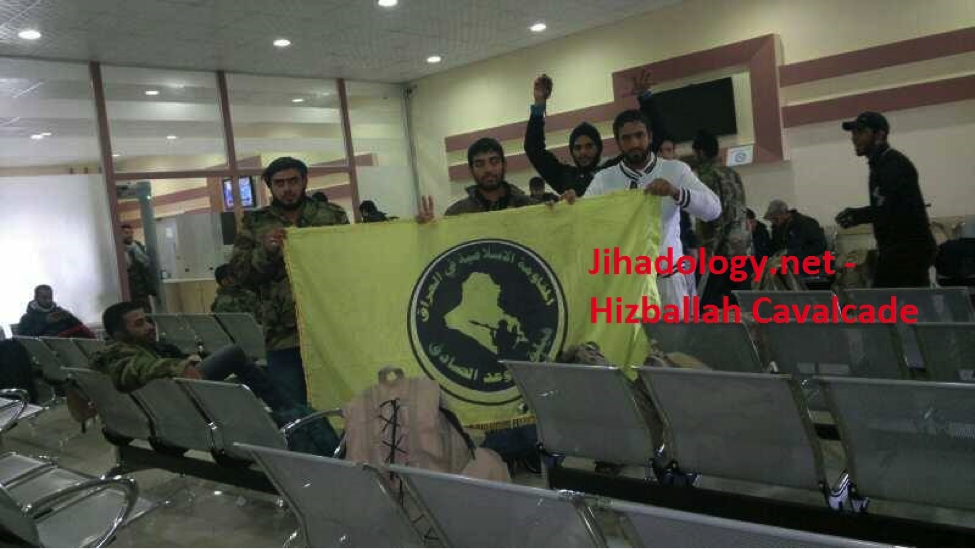 Figure 11: FWS fighters hold up the group's flag.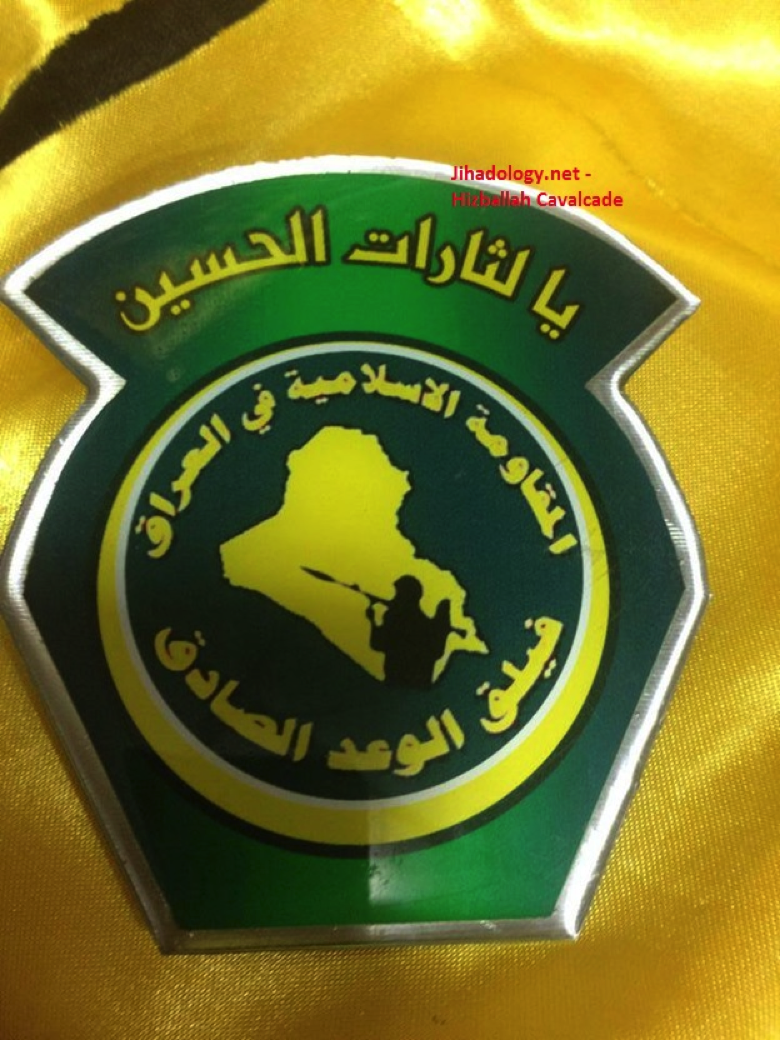 Figure 12: Another piece of FWS symbolism.
---