NOTE: For prior parts in the Hizballah Cavalcade series you can view an archive of it all here. For the first part in the subseries on Bahraini militant groups: "The Pearl and the Molotov."
—
Saraya al-Ashtar: Bahrain's Illusive Bomb Throwers
by Phillip Smyth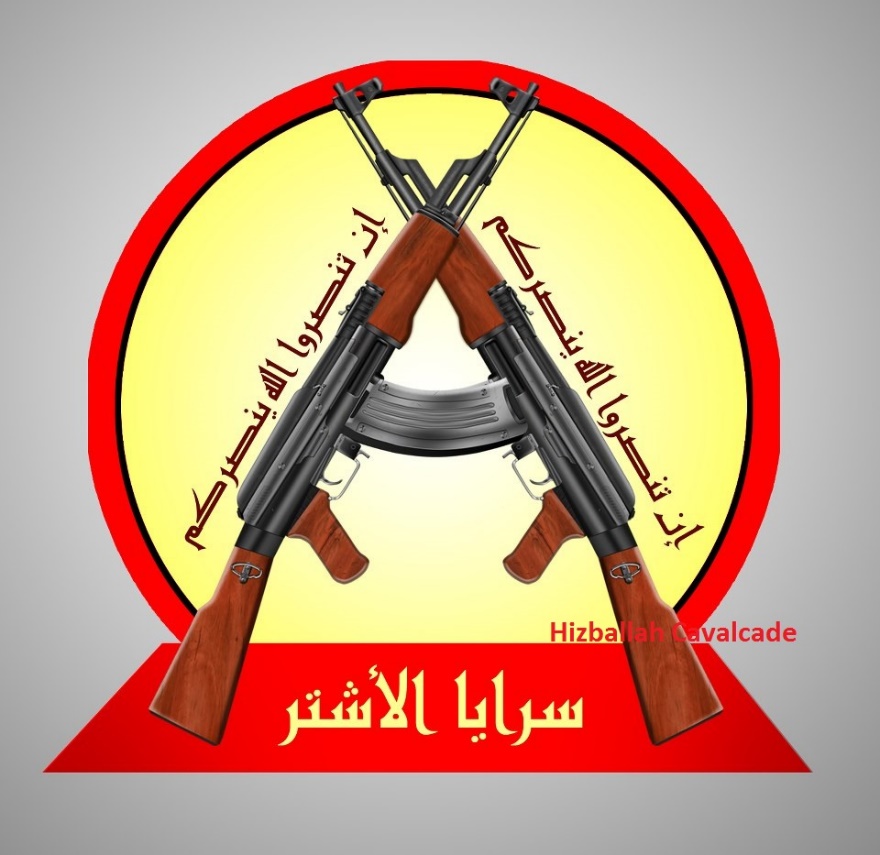 Figure 1: Saraya al-Ashtar's main logo. The symbol shows two Kalashnikov-type rifles crossed over a roundel which resembles a pearl. The base includes the group's name.
"The operation comes in revenge for our martyrs", read the March 3, 2014 "Statement No. 9", issued by Saraya al-Ashtar (The Ashtar Brigades or SaA) on Facebook and Twitter. This declaration directly referred to a bomb which was detonated during a Bahraini police operation in the town of Daih. Three were killed, including an Emirati officer who was deployed to Bahrain as part of the "Gulf Waves Force".[1] Reportedly, the police were attempting to disperse what was claimed in an official statement as a "riot." The protests occurred following funeral demos for another Bahraini protester.[2] However, the group claiming responsibly for the bombing received little attention in Western media and passing mention in Arabic language news. Regardless, the Saraya al-Ashtar group is quickly making a name for itself via it bombing campaign.
Since the summer of 2013, the group claimed almost twenty attacks against security personnel in Bahrain. The March 3 blast appears to be another attack in a long and developing list of bombings carried out by the group. This will probably not be the group's last. On March 4, the Bahraini government listed Saraya al-Ashtar as a terrorist group.[3] Still, the organization is quite shadowy and despite Bahraini government arrests, appears to be active.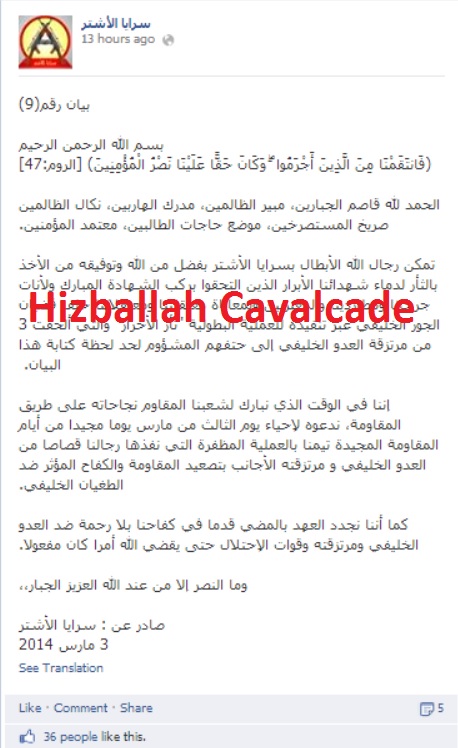 Figure 2: Saraya al-Ashtar's Statement 9, which claimed responsibility for the bombing of Bahraini police officers.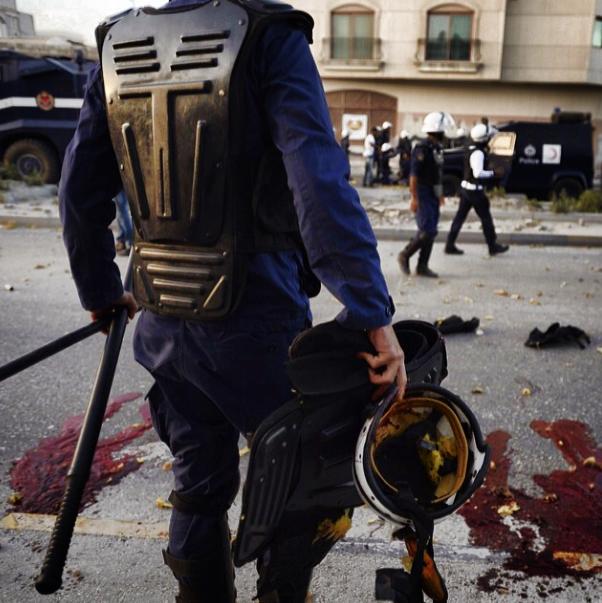 Figure 3: A member of the Bahraini internal security forces looks at blood-stained concrete following the March 3rd blast. (Source: Facebook)
Saraya al-Ashtar released its first statement via their Facebook page on April 27, 2013 (albeit, the written statement was dated April 28, 2013). In part, it stated, "Enough is enough" in regard to the actions of, "the rabid dogs of al-Khalifa [Bahrain's ruling royal family]." The group promised to strike their enemies the next day.  Keeping to their word, on April 29 SaA claimed in another post that they had, "Targeted a collection of mercenaries [the term most Bahraini militants use to describe Bahraini internal security forces] at the Adra roundabout".[4]
Attacks such as these have demonstrated SaA's preferred method of operation: Building and detonating improvised explosive devices and their direct targeting of Bahraini government security personnel.
SaA has an extensive social media presence with Facebook and Twitter accounts. These platforms are used to promote the group, broadcast threats, and to claim responsibility for attacks. Nevertheless, the group has not posted any photographs of their operations, membership, or weapons systems.
In fact, SaA has not released any photographs save for their logos. With the logos come further questions. SaA's first displayed symbol was clearly modeled off of Iranian-backed groups, most likely Kata'ib Hizballah's logo.  Their second, showing crossed Kalashnikovs over what appears to be a pearl (a national symbol for Bahrain) continues the militant theme.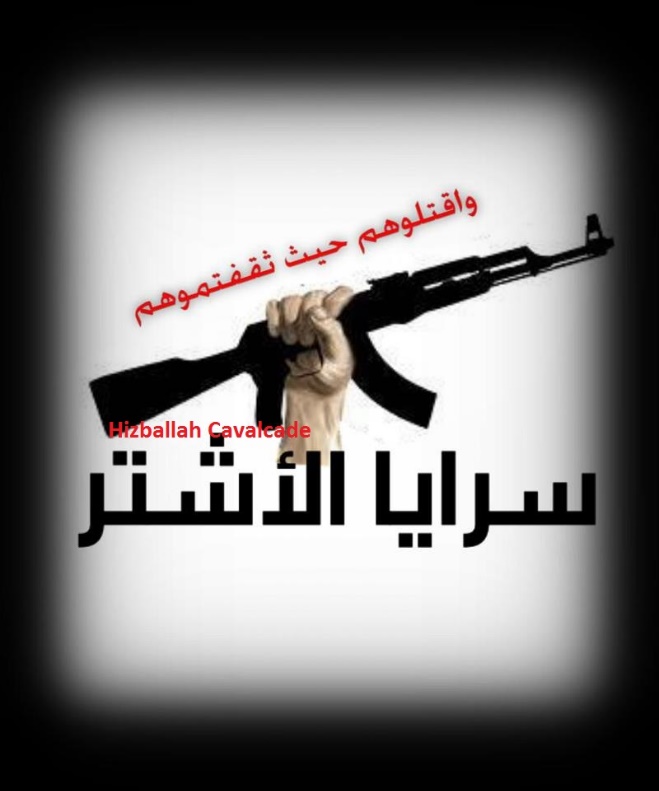 Figure 4: SaA's first logo.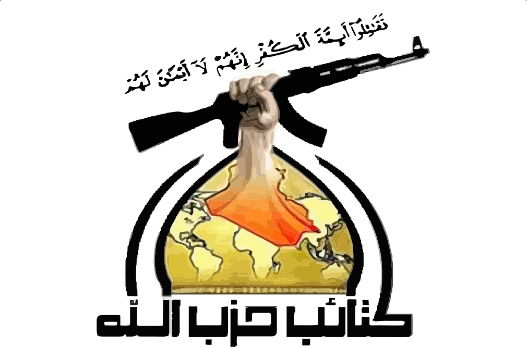 Figure 5: Kata'ib Hizballah's logo. Note the similarities between the fist-clenching-Kalashnikov images.
While photographs have been lacking, there have been a number of videos released onto the internet showing SaA's attacks. Since the summer of 2013 the group has also posted video footage of some of the attacks it has carried out against Bahraini security personnel. One of the videos claimed to show an attack the group made in Bani Jamra, a town in northwestern Bahrain.[5]  In another video from October, the group wrote, "This is just the beginning."
Designed to coincide with the major February 14 protests (which commemorate the start of the 2011 Bahraini Uprising), SaA carried out another nighttime attack against Bahraini internal security forces and also released a film of their action. Albeit, instead of using their own accounts, this time the group sent the video to the popular "Revolution Bahrain" YouTube station. This style of release was repeated following the March 3 bombing when the group released footage it claims to have taken showing the aftermath of the bomb. In all cases, films of their attacks are regularly edited in order to give the group a level of operational security.
Following the March 3 blast, supporters of the group published clips which reportedly showed protests in support of the "holy warriors of Saraya al-Ashtar." During the protest, candy was handed out to show support for the attack.[6]






The Rhetoric of Saraya al-Ashtar
Demonstrating a direct link to the adoption of Shia-centric forms of messaging, Saraya al-Ashtar's name was likely no coincidence. It's possible the group draws the roots of its name from Malik al-Ashtar, one of Imam Ali Ibn Abi Talib's most loyal aids and colleagues. Malik al-Ashtar was also known to be a brave warrior and took part in a number of major battles at the behest of Ali. Ali Ibn Abi Talib, was the Islamic Prophet Muhammad's relative and viewed by Shia as the Prophet's successor and the first Imam.
The organization also refers to its combatants as "Rijal Allah" or the "Men of God." The utilization of the phrase sets the underpinning for a religiously focused message: These fighters are doing the work of God. This immediately casts their foes as agents of a notably less than holy origin. The term finds regular use as a descriptor for Lebanese Hizballah and Iraqi Shia Islamist fighters among the supporters and members from Iranian-backed proxy organizations currently fighting in Syria.
Nevertheless, it is still essential to acknowledge that despite the organization's clear Shia-centric messaging, it has attempted to argue that it is not a sectarian entity. In Saraya al-Ashtar's July "Statement No.4", the group accused the government of "igniting sectarian strife between the communities." SaA also claimed that, "all of [Saraya al-Ashtar's] operations are directed at the pillars of the corrupt regime and its mercenaries."
There are a few ways to measure such a statement. When compared to the bulk of Iranian-backed Shia Islamist group rhetoric, those organizations also claim to be non-sectarian while simultaneously promoting an undercurrent of heavy Shia-centric sectarian messaging. There is also the possibility the group is honestly conveying its "revolutionary" beliefs. Arguing that its enemy is not Sunni Muslims, just the government under the Khalifa royal family and their supporting elements, is given more weight considering the group has only directly targeted security personnel.
As with other Bahraini militant groups, Bahrain's security personnel are regularly referred to as "mercenaries." The charge that Bahraini security forces are "mercenaries" stems from Bahraini recruitment of outsiders, primarily Sunnis from Pakistan and other Arab states. Additionally, while the organization has not specifically called-out Saudi Arabia or other Gulf states which sent forces to Bahrain in 2011, it does make passing references to their presence as, "the occupation." In an effort to demonstrate the weakness of the Khalifa royal family, the SaA regularly refers to the Bahraini royals as a "collapsing regime".
Saraya al-Ashtar's Messaging & Links to Iran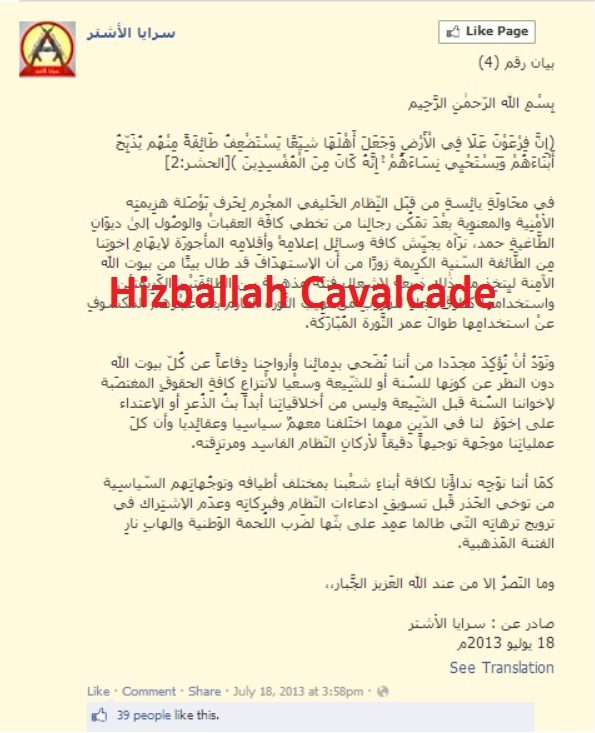 Figure 6: Saraya al-Ashtar's Statement No. 4.
At the time this post was written the group had released nine statements dealing primarily with their militant activity.  Besides claiming responsibility for bomb attacks, another main focal point for SaA's releases have dealt with the fate of political prisoners and to show support for main figures involved with the protests The condition of Abdulwahab Husayn Ali Ahmed Isma'il (A.K.A. Abdulwahab Husayn), a major ideologue, politician, and protest leader since the uprisings in Bahrain in the 1990s, was a core concern in SaA's 2nd (May 17, 2013) and 8th (November 10, 2013) released statements. At the start of the 2011 Bahrain protests, Husayn was arrested by Bahraini authorities, reportedly tortured, and then sentenced to life in prison by a military court. Even though the sentence was overturned, Husayn remained in prison. In both statements, concerns over Husayn's "deteriorating health" were main themes. The statement in November also reflected broader protest groups' concerns over Husayn's health and accused the Bahraini government of abusing him.[7]
When the home of Ayatollah Sheikh Isa Ahmed Qassim's home was raided by Bahraini authorities, in May 2013, SaA described it as a "[criminal] act". Iran and Lebanese Hizballah also condemned the raid.[8] Qassim is the leading Shia cleric in Bahrain and is considered a "spiritual leader" for the opposition Al-Wefaq Party. Pro-government activists and figures have accused Qassim of instigating violence against police forces in Bahrain.[9]
A July 2012 paper by the American Enterprise Institute noted Qassim was increasingly moving into Iran's orbit and this, "should be a red flag for the US on Bahrain."[10] It is also important to note that Qassim did his religious studies in Qum, Iran. Qum is a center for the promotion of Absolute Wilayat al-Faqih, the main Iranian Islamic Revolutionary ideological concept. While there, he studied under Grand Ayatollah Kazim al-Haeri, the same figure who issued the first publicly available fatwa declaring Shia should fight a jihad in Syria. (in addition to other clerics). In the 1960s, when Qassim studied in Najaf, Iraq it was claimed by Iranian sources he was a student of the late radical cleric Grand Ayatollah Muhammad Baqir al-Sadr.[11]
In one article by Al-Arabiya, it was claimed that Saraya al-Ashtar is loyal to the concept of Absolute Wilayat al-Faqih.[12] However, the SaA has not published anything which publically confirms their reported faithfulness to the religious-political ideology.
Still, Bahraini and Emirati authorities have accused the group of receiving direct assistance from Iran and Lebanese Hizballah. Dubai's police chief claimed that one of the people who planted the March 3 bomb, which killed an Emirati police officer, was trained by Hizballah after a trip to Lebanon.[13]
While links to Iran are hazy, the increasing activities of the group, sophistication in terms of building and placing bombs, and frequency of attacks, does beg the question: Where did Saraya al-Ashtar's bomb makers and operatives learn their deadly skills? As demonstrated by the growth of Iranian-backed Shia Islamist militias in Syria, Iranian presence is often a well-hidden element. In Bahrain, where there are regular accusations of Iranian intervention, it is likely that if Iran did have a hand in constructing Saraya al-Ashtar, it has done its best to obscure this involvement. However, based on open source information it is still too hard to confirm or fully deny Iranian connections to the group.
---